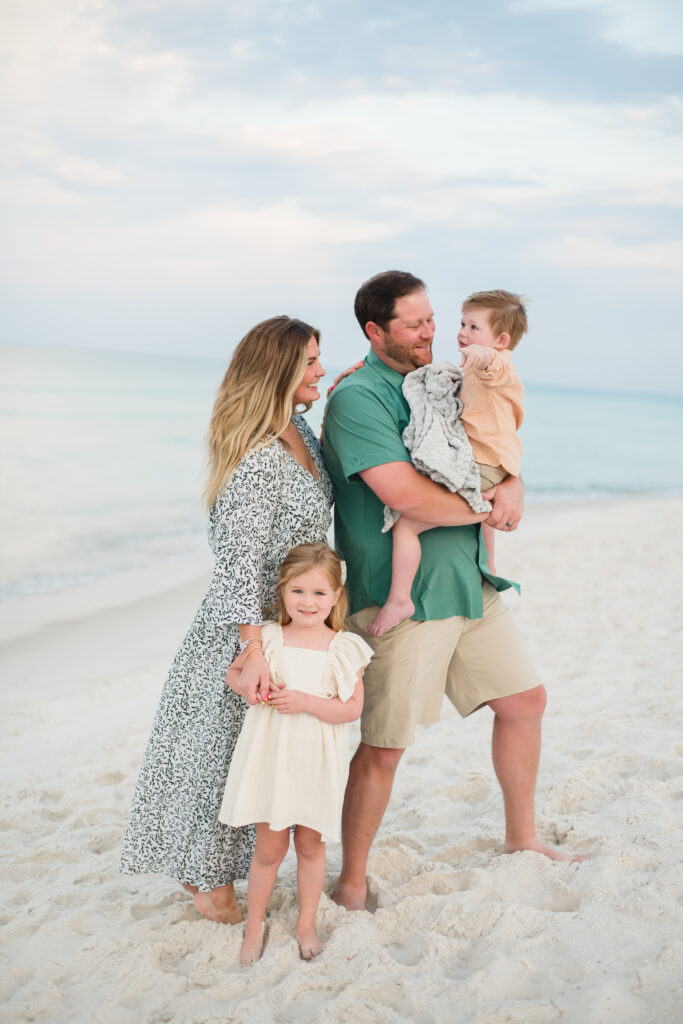 If you've ever been to Panama City Beach Florida during Spring Break, then you probably have it in your head that's its not the most family friendly place to visit with your kiddos. But the truth is, PCB Florida is actually quite the opposite! Since the state signed laws banning drinking from the beaches during the months of "spring break" the town of PCB has cleaned up quite a bit. The real estate market is booming, businesses are flourishing, and family friendly places are popping up left and right! We visited the area is May and June of 2021 and had the absolute best time with both large crews and just us and our kiddos! So i'm going to share all the tips and tricks on how to make the most out of your PCB vacation!
Where to stay?- Panama city is booming with hotels, condos and rental houses so there is almost always something for every budget! We have stayed in hotels, houses and condos and have had great stays at all the above! Check reviews on sites like VRBO, Trip Advisor and more before you book!
If you've got a large crew, look at renting a nice house! We rented a home through VRBO in May that slept 16 and it was gorgeous. It was less than 500 feet from the beach, had a private pool in a fenced in yard and was conveniently located walking distance to grocery stores and restaurants! I will leave links to both houses we have rented on VRBO here (Sleeps 16, directly across from beach, large private pool with hot tube, walking distance to pineapple willys), (sleeps 17, less than 100 yards from the beach, private pool).
If smaller condos are your thing, check out Lake Town Wharf! This is where we stayed just us 4 plus our baby sitter and we were more than pleased! The Wharf has 5 pools including a kiddie "splash pad", adults pool, a roof top pool and a large pool with a restaurant and bar right next to it! The restaurants down below this place are also very note worthy i'll touch on those in food suggestions! While this is not right on the beach, there are multiple beach accesses right across the street that are very easy to get to! Word of advice if you do stay here, walk down to the public beach access 27! This is in the area of house 1 listed above and it has almost no one ever on the beach there. Beaches in summer are slammed so this little hidden gem was a life savor to avoid waking up early every morning to go claim our spot for the day! The condo we stayed in was a 2 bedroom 2 bathroom unit but it had a little "bunk room" with a barn door that closed off, so it was pretty much a 3 bedroom condo! It was the perfect size for our family and something we will definitely rent out again! Link to the AirBnB here! 
Where to Eat?- PCB has an abundance of restaurants to choose from and almost all are family friendly! There are a few that I like to point out and give some tips on how to score the best seats at the best time! 
All you can Eat Crab Legs?- Check out The Wharf Buffet! We have been here twice now and have been pleased both times! Not only do they have all you can eat crab legs, but all filet mignon and almost any other type of seafood you can ask for. To score a table, eat anytime before about 7 pm and you'll have maybe a 30 minute wait! The earlier the better! Another AYCE crab leg joint is Captain Jacks! Nothing wrong with it, I just prefer the Wharf because it's a little less "known" and easier to get in and out of!
Oysters?- You have got to visit both Dusty's Oyster Bar and Shuckems! Dustys is a TINY little joint down on the west end of the beach that will make you wait hours just to score a seat! Best advice here is go early! They will not seat parties larger than 2 after 8:30 pm during the summer because they are short staffed right now. Shuckems on the other hand will seat you up until 10 pm! Their oysters are to die for! My favorites here are the PCB baked! Shuckems also has a karaoke bar right next door that stays open until about 10 pm every night!
Classic seafood?- Check out Coconuts at Sandpiper Beacon! This is one I unfortunately haven't been to, but have been told by many that it's the best seafood in PCB! Very family friendly and they have huge swings outside to sit on while you're eating dinner! Go early! Like 5:30 or 6 pm early! The wait here is almost always 30 minutes or more! A lot of people will suggest Pineapple Willy's but its so over rated! Their menu is bland and the food is nothing special! People go here for the name and their frozen drinks which are great! My advice, grab this for lunch one day. Not dinner! Or walk down on the beach and grab a frozen drink! But don't waste time or money fighting the crowds and over 2 hour waits for dinner here! It's not worth it!
Breakfast- Grab donuts from Thomas Donut Shack! You'll wait in line anytime after 7 am but they are worth it! If donuts aren't your thing and the kids need to burn some energy, head over to Barefoot Hideaway! This little joint has a pool that opens up at 9 am that's perfect for small kiddos! A splash pad on one side with fun entertainment and a mini pool on the other! It's also right on the beach so the views are beautiful and the pool is fenced in, so no worries about little ones escaping! Their food is pretty decent here as well! If you want something a little more calm and "farm to table", try First watch! These are a chain, so they have them a few other places but the food here is AMAZING and it's well worth the stop! You definitely want to get to both of those breakfast spots earlier because they fill up fast, especially Barefoot Hideaway!
Tacos- When I tell you, Juan's Tacos has THE BEST TACOS, I mean the best. Not just the beach in PCB, the best ever! This little hidden gem is located under the Wharf and is a gold mine for any taco lover! They make their meat fresh every morning and once it's gone, they close their doors! The best way to enjoy this spot is to grab lunch here or grab a super early dinner around 5ish! They don't have a large indoor dining area, but the area outback has plenty of picnic tables and live music on the weekends to enjoy! Also say hey to the 12 foot alligator that hangs out right there in the lake! He's HUGE!
Pizza- Hungry Howies and nothing else- They also deliver which is clutch when you just don't feel like getting out and driving! Their cajun crust is life changing and so is their taco pizza!
Steak Dinner- Angelos is hands down the place to go! Beware, you'll wait hours here so go early!
What to do? Panama City has so much to offer for entertainment that the list is endless. Unfortunately we haven't had to utilize much because we have been blessed with great beach weather, but if you're looking for something to do on a not so great beach day, then check out some of these! 
Go Carts- This is a must do! Our kiddos absolutely love the wooden track at Emerald Falls! They also have a kiddie area with kiddie rides so if you have one that's a little too afraid of the Go Carts, then buy them a few tickets for the kiddie rides! Except to drop about $100 bucks here easily! It's pricy, but so worth it! We have visited other tracks and the carts just aren't fast and the tracks just aren't near as fun!
Gulf World- While this isn't my scene, a lot of families love to take their kids here to swim with marine life like dolphins! Some of it is indoor, some is not! I would call ahead to check on shows and such or to book your swims!
Sky Wheel at Pier Park- This is an absolute blast and a great way to burn 15-20 minutes when you're exhausted and just want to take a seat with the kids! The wheel is HUGE and you're able to see a good chunk of PCB from the top! Pretty pricy, but worth it!
Pier Park Shopping- If it's a pretty day, head out to the shops at Pier Park! They have almost anything you and your kids would ever want! The giant candy store is such a fun visit to let the kids make their own little candy bags or head over to the Marble Slab Creamery for a giant milkshake! They also have an arcade, a movie theatre and more!
Ripley's Believe it or not museums- Again, I have not personally been here but I have heard decent things about both! Would be a fun time if you're trying to get out of the rain or just need a day off the beach and looking for something to do!
Tootsies- Got a sitter or looking for a date night? Tootsies is the only place to be after 10 pm. Everything else pretty much shuts down, but this place stays open until 2am! Live country music, decent drinks, great place to go without the kiddos!
[jetpack-related-posts]