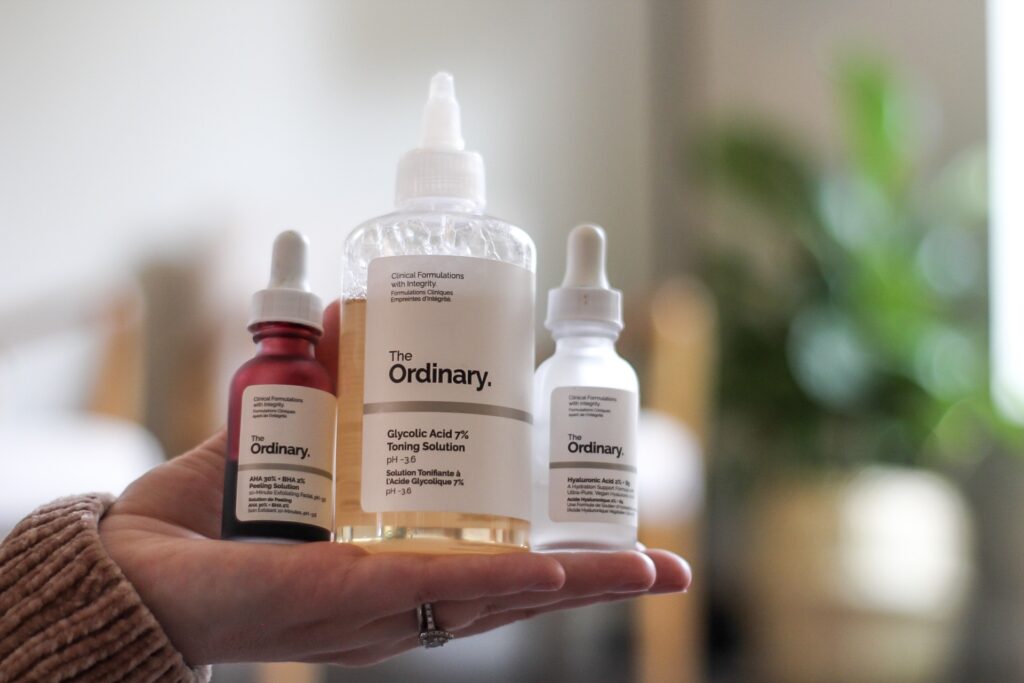 Choosing a good skincare routine can be super challenging. It's literally like finding a needle in a haystack until you find those perfect products. But sometimes the products you find can be extremely expensive and such a hit to purchase. Take Drunk Elephant for instance, they are my all time favorite skincare brand hands down. But buying a $98 serum every 6 months is a lot harder than a $8 serum from The Ordinary. So when I finally dug in and did some research on the brand and realized that the ingredients they use are pure and very clearly labeled, I decided to adventure in. And let me tell you it was scary. My skin hated me some days and loved me others. But I think I have finally found what I like to think are the best of the best from what The Ordinary by DECIM has to offer!
A little bit of background on the brand- The brand started making it's way into the beauty community in 2013  when recently (October 2018) deceased owner/CEO Brandon Truaxe kicked it off making it the first of it's kind in the world of skincare. The active ingredient driven and extensive research based products had insane waitlist of over 25K people waiting to get their hands on the brands products. Truaxe's motivation to create DECIEM was driven by his frustration at other brands disguising watered down ingredients behind insanely high market prices and fancy packaging. Even after death, the packaging and ingredients behind all DECIEM/The Ordinary products remains simple and cost effective and environmentally friendly. Although there were many instances where Truaxe flew off the handle, shutting down the company twice and blew up social media posts, his legacy in the skincare world will live on as the company continues to show brands all across the board that skincare does not have to be confusing or expensive. Still to this day, you can send an email to the brand and explain to them your skincare concerns and they will modify and build a skincare product plan specifically for your skin! How dang cool?
**Disclosure- Products are linked via affiliate links which allow me to make a small commission (At no extra cost to you) with each purchase you make. This helps me continue to keep sharing all of my awesome finds with you guys. Thank you all for your love and support**
Hyaluronic Acid 2% +B5- This is about as basic as you can get in terms of an affordable hyaluronic acid serum. Hyaluronic acid is everything your skin needs to keep hydrated. It allows your skin to literally take a big drink of water, leaving the skin nourished, plump and super soft and hydrated. Add in the vitamin B5 (which helps keep skin soft and smooth) and you've got the perfect combo. This is a gentle acid, good for all skin types and it can be used daily but always follow up with SPF. **Pro tip, use this in the morning before applying your makeup to allow your skin to stay super hydrated throughout the day.
AHA 30% + BHA 2% Peeling Solution– This is my holy grail. I cannot say enough good about how much this has done for my skin you guys. I'll break it down- AHA/BHA are exfoliating acids. What that means is they work by absorbing into your skin to remove dead skin cells slowly vs the more abrasive physical exfoliants you might find in an apricot scrub. These can sting slightly the first few times you use them and they can continue to sting slightly every time you use them depending on your skin, but they work and they work very well. Use this once a week to maybe 2 times a week on clean skin and always follow up with a moisturizer. How does it work? Get ready for a chemistry lesson! AHA (Alpha Hydroxy Acid) work by loosening and removing junk from your pores to clear up inflamed skin. Meaning if you have acne prone skin, AHAs can be your BFF! AHA products can also be used all over the body for acne. BHA (Beta Hydroxy Acid) in a sense, does about the same things as AHAs but these are oil soluble so they tend to work a bit better on oily to combo skin. Together- these 2 are the dream team. They work together to "unglue" your clogged pores that contain junk your skin does not like. Over time the use of AHA/BHA can improve the look of fine lines and wrinkles, help skin look and feel more firm, hydrate your skin and help improve your texture. So in other words, if you are aging (cough, everyone) this is for you. Its amazing, it's $8 and its the best!
Glycolic Acid 7% Toning Solution– One of my favorite toners, this glycolic acid toner is everything you could ask for if you are oily and tend to break out. It works by gently removing the top layer of dead skin cells to reveal fresh skin cells. Why does it help? Using a glycolic acid toner on your skin before applying your other skincare steps can help your skin absorb the benefits of anything you are applying on your skin after using it. So Using glycolic acid allows the skin to look and feel much more fresh and vibrant and helps over time with discoloration from scaring, signs of aging and fine lines and wrinkles. I tend to use this about 2 times a week when i'm not going to be using any other exfoliating products. **You would not want to use this as your toner and then immediately use the AHA/BHA peeling solution. Doing so could seriously damage your skin** I would personally use this after washing with a creamy cleanser, apply with a cotton round, then go in with a hydrating moisturizer and follow up with a simple eye cream.
100% Organic Cold-Pressed RoseHip Seed Oil– The fountain of youth in a facial oil. I swear you guys, It's that good. Rosehip seed oil contains Vitamin A which helps even out your skin tone and over all makes you have a more youthful and glowing complexion. It also contains essential fatty acids which promote new cell growth which can reduce the appearance of scars, fine line and wrinkles. Literally, it's like a time machine! So good! Finding a good organic and cold pressed formula is crucial in how the formula works in your skin care routine. Tons on the market but this one is the cheapest and best at what it claims to do!
Lactic Acid 10% + HA– Another great way to reduce aging appearance of skin. We have a trend going, you feel me? We want to look young forever! So lactic acid works by keeping your skin hydrated and helps promote the growth of collagen which helps new skin cells grow. It also does an amazing job at evening out skin discoloration from sun damage. AKA if you spent too much time in the tanning bed in highschool, this can be your new BFF! It also helps diminish the appearance of large pores over time, making them much less visible! How freaking cool is that right? The fact that this particular formula also contains hyaluronic acid (HA) means that is gives your skin an even bigger boost of hydration!
**Now i'll share a few popular products from the brand that I have not tried personally but are on my list. These explanations on the products and how they are used come from various sources on the internet that are from news articles and other sites.
Retinol 0.5% in Squalane– This water and silicone free retinol is a very stable retinol formula that overtime improves the appearance of fine lines and wrinkles. A powerful form of vitamin A, this should be used in very slow increments as to not cause any damage to the skin. Although Vitamin A is able to essentially reverse the signs of aging, using too much can cause blistering of the skin and lots of redness. This CAN NOT be used while pregnant or breastfeeding and should not be used with retinoids. Always follow up with sunscreen. Use in the evening before moisturizer. Pro Tip- This is only sold off The Ordinary website and is almost always out of stock. It's the most popular retinol they offer and for good reason. Sign up for the email restock to be sure you can snag it when it restocks!
The Buffet– One of the brands most popular products, this powerhouse serum offers numerous peptide complexes with amino acids mixed with multiple hyaluronic acids to give your skin an anti aging super punch! This does tons of good for your skin and can be used in combination with lots of other products! Great for juicing up dull/lifeless skin to give you a boost of hydration!
Niacinamide 10% +Zinc- 1%- The wonder serum for those with acne prone or oily skin. Niacinamide, a form of Vitamin B, works to unclog pores and reduce the frequency of breakouts in very powerful and effective way. Overtime, this powerful serum can decrease the appearance of large pores, decrease the overproduction of oils in your skin caused by dehydration and overall improve the appearance of your skin. Can and should be used twice daily in your skin routine and can be used with other products.
Caffeine Solution 5% + EGCG– a highly concentrated eye serum that works to drastically reduce the visibility of dark circles and puffiness. Such a powerhouse for those looking for a solution to get rid of the dark circles and bags under your eyes. You won't regret the decision to buy this.
Exploring into these products was so much fun you guys! I've been using them for almost a year now and the results i've noticed have been amazing. But a pro tip, do not mix acids. So things you cannot and should NEVER mix are any sort of AHA/BHA or glycolic or lactic acid with a Vitamin C serum. Something you can do that helps, Mix your hyaluronic acid in with your vitamin C serum in the morning before makeup, follow up with a good SPF and you're set. At night, wash and use the glycolic acid toner.. give your skin a good bit of rest and then use the lactic acid serum. About every 3-4 days wash and then use the AHA/BHA peel and moisturize using the rose hip oil. It's all such a great combo if you just use it in the proper way!
Hope you guys enjoyed my little chemistry lesson!
XO-Jordan Lee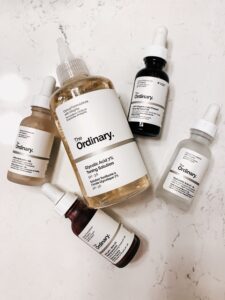 [jetpack-related-posts]