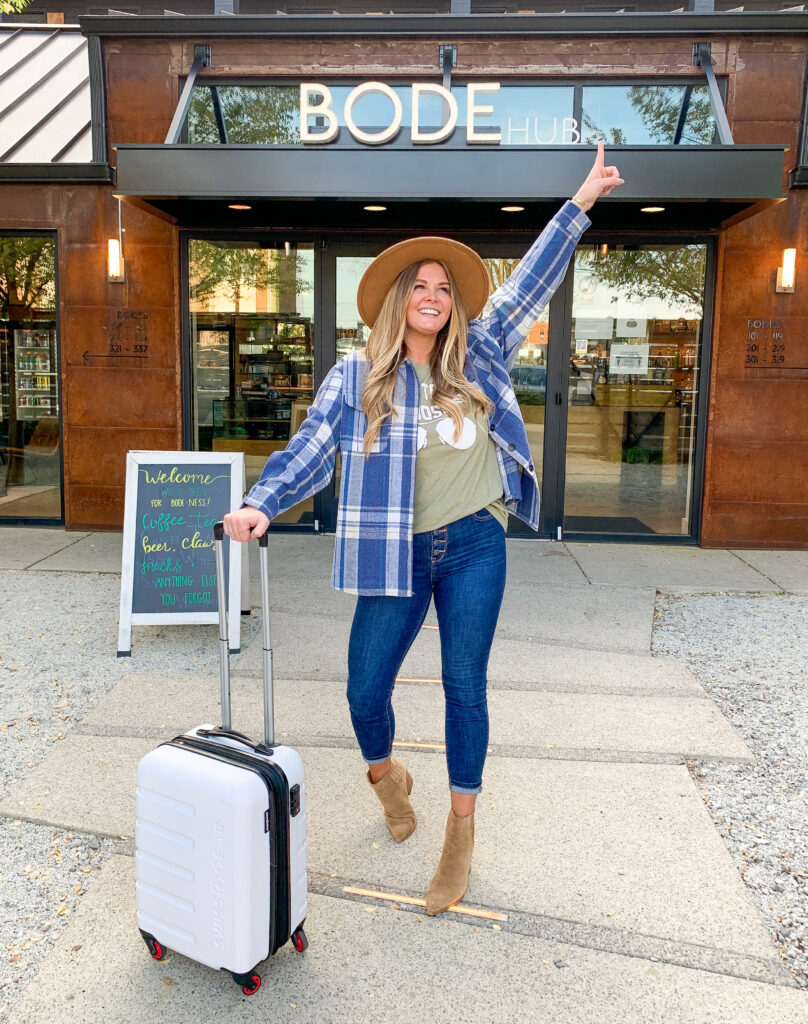 Thinking of taking a trip to Nashville soon? I am here to help! I traveled to Nashville with a group of girls back in November and we had the best time! Tons of great food, sight seeing, live music and more are what you can find in the Country Music capital of the world!
Where to Stay-
We were graciously hosted by Bode Hotels during our most recent trip to Nashville. Think renovated apartments meets AirBnB type deal. These multi room hotel rooms are PERFECT for hosting a group of up to 12! From room sizes of 1-4 bedrooms plus all the common area you could ever need, Bode Life Hotels are great! The one in Nashville has a gorgeous courtyard with 2 fire pits that run all day during the winter season giving you the best way to end the day! There is a brand new wine and spirits bar right on site as well. The hotel is walking distance to broadway and many restaurants/entertainment options! Overall, our stay was amazing and we absolutely LOVED staying! If you happen to be traveling to Nashville, reach out to their IG (@Bode.Hotels) and mention this blog post from me and get 15% off your stay!
Another great stay option is The Graduate Hotel. I stayed here for one night before joining our group at Bode and was blown away! The entire hotel is designed like a 70's theme country music video and is absolutely gorgeous! There is a coffee bar inside the lobby that has breakfast pastries and more that you can grab on the go or sit down on their beautiful array of couches designed to highlight the different eras of country music! There is also the ever so popular White Limozeen rooftop bar that sits on top of Graduate Nashville. Here you can grab cocktails and more with girlfriends on cute pink couches and enjoy the cutest decor designed to highlight Queen Dolly Parton! This is definitely a great place to stay for a smaller group or just a girls night out!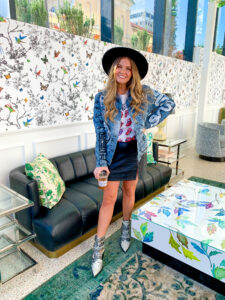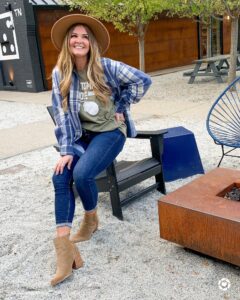 Where to Eat- Nashville is FULL of wonderful places to eat from high end to casual dining. No matter what you're craving, you'll find it here.
First up- Hampton Social- This place is a DREAM! From the decor to the menu to the beautifully crafted cocktails, you will not be disappointed. They just added in a rooftop bar that has a gorgeous view of downtown Nashville!
Nada Nashville- If you're craving Mexican food, look no further than Nada! The most delicious small plates from Tuna tartare to larger dishes, this place has it all. Their handcrafted margaritas are also a must order here!
The MockingBird- This is more of a place you would pick for a quiet, candle lit dinner for two, but never-the-less, my girl @annadanigelis and I wined (or martini'd) and dined here. The apps were delicious and the drinks delicious! I would definitely recommend for a beautiful atmosphere, great food date night!
Five Daughters Bakery- You know those gorgeous donuts with all the amazing treats on top? Yep, thats five daughters. This place is every sweet tooth person's dream. The most deliciously planed out donuts that are huge and splurge worthy! Definitely a great sweet treat or a breakfast date!
RH Cafe Nashville- My goodness this place is BOUJEE but it is worthy! You dine in the middle of the RH store on gorgeous RH couches next to a running fountain that serenades you the entire time. This is probably the most relaxing place we ate at the entire time we were in Nashville. Highly recommend the avocado toast. Plenty of food for two to share!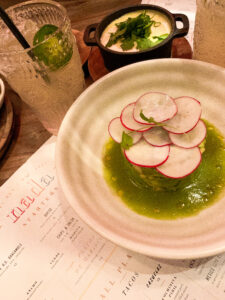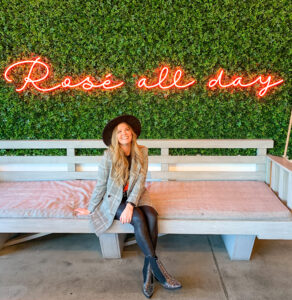 Where to Drink- If the bar life is your scene, here are some places to hit up!
L.A Jackson- This place is a MUST visit. From the beautiful rooftop views to the insanely delicious cocktails, this place is a first stop for me. We ordered quite a few drinks here and each one was delicious! Highly recommend the "Snozzberries taste like Snozzberres" cocktail for a fun "instagram worthy" moment!
Losers Most Wanted Bar- We were only here for a brief moment, but the rooftop overlooking broadway is worthy of another visit. Cheap drinks, live music and great views? Say no more!
White Limozeen- Unfortunately we weren't able to make it here (thanks covid) but I know enough about it to suggest it here. My first piece of advice, grab reservations WAY in advance. This is not a stop by place, you will not be able to just walk in and grab a drink. It is reservation only and they are hard to snag! Go online to reserve! Reservations open up 14 days in advance of the date you need them so mark your calendar and don't be late!
Ms Kelli's Karaoke Bar- WOW is all I can say at how fun this place can be on a weekend night! Cheap drink deals and live karaoke singing all night long!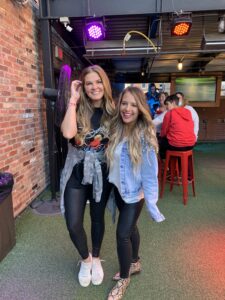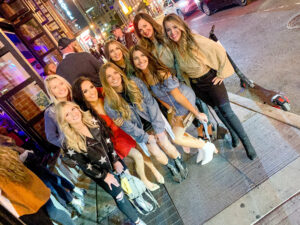 What to Do- Looking for fun things to do? Jump on a tour of broadway with Music City Crawlers and request Paige with the pink trolly. When I tell you this is a fun time, it is FUN! Great music, drinking all while peddling (not nasty sweaty peddling, just fun) around Nashville and having a great time with your crew! We had such a blast with their team and would definitely recommend going to anyone!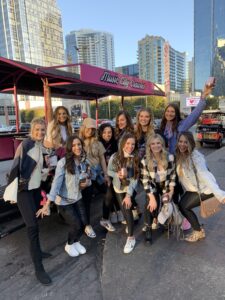 Where to Shop- We stopped by a few stores during our trip and here's what I suggest;
Shop Molly Green- small, family owned women's clothing, accessories and shoes boutique that is just about anyone's style. I grabbed some seriously cute things while in store here with them!
Finnley's Nashville- The CUTEST boutique ever! I own a few things from them and absolutely love them!
ABLE- Leather goods, clothing & Shoes and handmade jewelry are what await you here. ABLE employs 95% women and pays livable wages to the women who make their goods all over the world. This company is worth investing your money with and definitely worth a stop in Nashville!
Kendra Scott- We stopped by Kendra Scott for their color bar experience and had a wonderful time! If you happen to stop by during the month of your birthday, you get 50% off your purchase!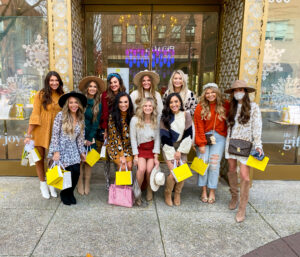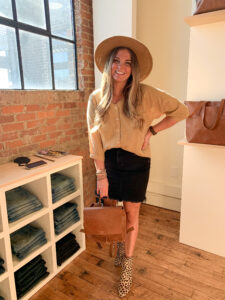 Nashville is a BLAST! Covid might make things strange because seating space is limited and there is no standing allowed, but it is still SUCH a fun time!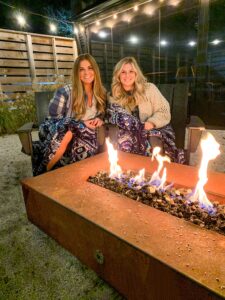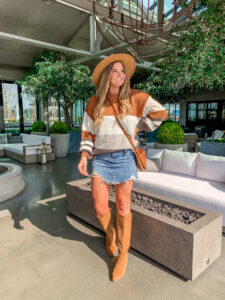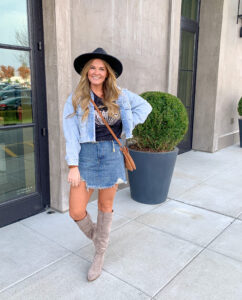 [jetpack-related-posts]