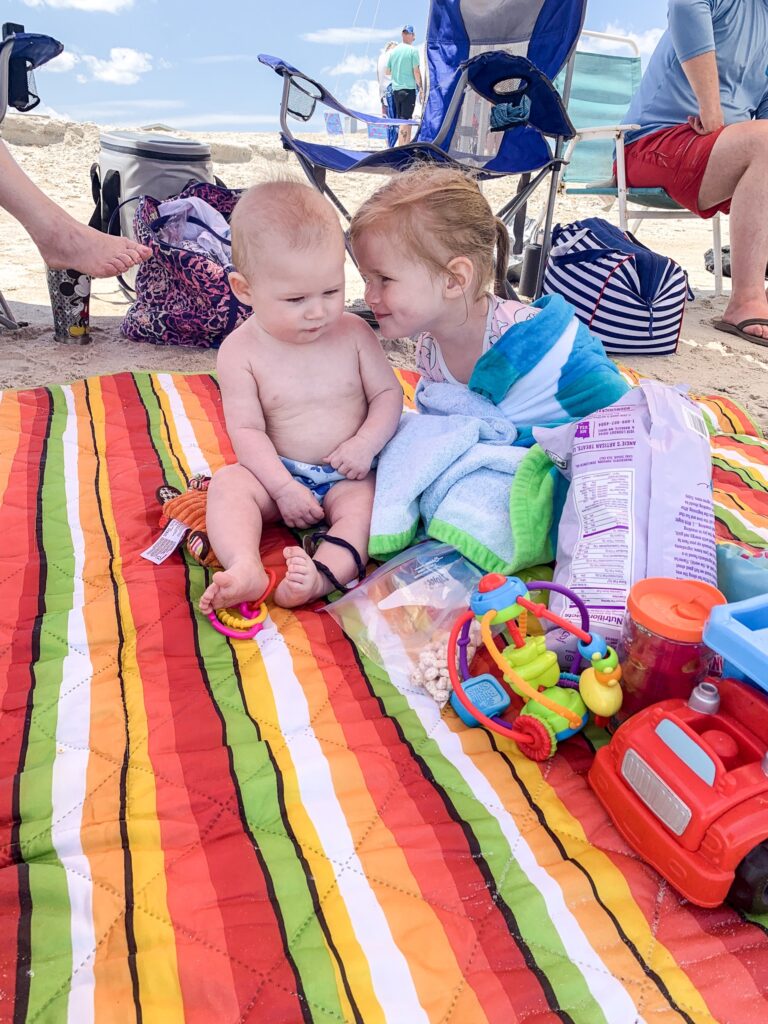 Happy Summer friends!! Warm weather is here and that means beach trips. And beach trips as a mom means basically nothing, because it's not relaxing. But if you have the right gear, it can make things a little more smooth and fun for both you and the kiddos!
We took our 3 year old and our 7 month old to Amelia Island FL for a few days and had an awesome time. Both babies loved the beach and I loved still being able to enjoy vacation while knowing my kiddos were having fun. So i'm sharing some of my top must haves for this summer's beach trips and all summer must haves! All are pictured below in shop-able links. Just click to shop!
1-Think Baby SPF 50 Sunscreen- Okay, duh! But sunscreen is a huge deal these days. So many brands are unsafe for use on sensitive skin and some are just gross with chemicals. Our top pick for sunscreen is Think Baby SPF 50. It is a mineral based sunscreen free from nasty chemicals and is safe on babies/toddlers skin.
2. Rash guard- We found our kiddos rash guards on amazon and were pleasantly surprised at the good quality. Each guard has SPF 50 built in and comes in fun colors and sizes to fit babies up to bigger kiddos. Short and long sleeve options and also a fun peplum style top for the girls!
3- Sun Hats- These cute little hats were such an awesome item to have. Two cute styles, one more girly than the other, and tons of cute colors. Also containing SPF 50 and protects babies face, neck and ears from the sun!
4- Beach Wagon- this was great for not only carrying stuff to and from the beach, but also letting our youngest take a nice little nap without being exposed to the sand. We just let him lay in his swim diaper with a cool/wet rash guard next to his head and he napped for a solid 2 hours without budging!
5- Sports Tent- I always wonder how people go to the beach without an umbrella of some sort, but we are not those people. We always take a small pop up tent that gives us plenty of shade for sitting, playing and whatever else is needed. My advice, bring shopping plastic bags to fill with sand to anchor the tent down.. otherwise you might end up chasing it down the beach like we did on day one!
6- Baby Pool- This is like an optional item, but we used it day one and not so much day 2. This allows baby to play in the water to stay cool under the shade without having to stress about the waves. Simply throw in an inch or 2 of water, some fun little toys and baby will be occupied for a good bit.
7- Baby Powder- This is like black magic. When you get all sandy, simply pour baby powder all over and rub in and the sand falls off and your body is left super smooth. It's incredibly handy when you're reapplying sunscreen over babies skin to keep him scratching them up.
8- Beach toys/Mesh Bag- Go grab some cheap dollar store toys, kids don't need anything fancy. But these mesh bags off amazon are huge and perfect to throw in any sandy toys to keep your beach bags sand free.
9-Stroller/Portable fan- These are AMAZING to clip onto whatever baby is napping on to give them a little more of a breeze. Ours we used lasted both days during all 4 beach naps without dying down.
10. Puddle jumper- This is a MUST HAVE. Even if your child can swim, please put this on them. And specifically the one that goes over their chest and cannot just slip down!
Hope you guys all have amazing and SAFE beach vacations! Be sure to click through below to shop all these awesome must haves for your upcoming vacation!
XO-Jordan Lee

[jetpack-related-posts]