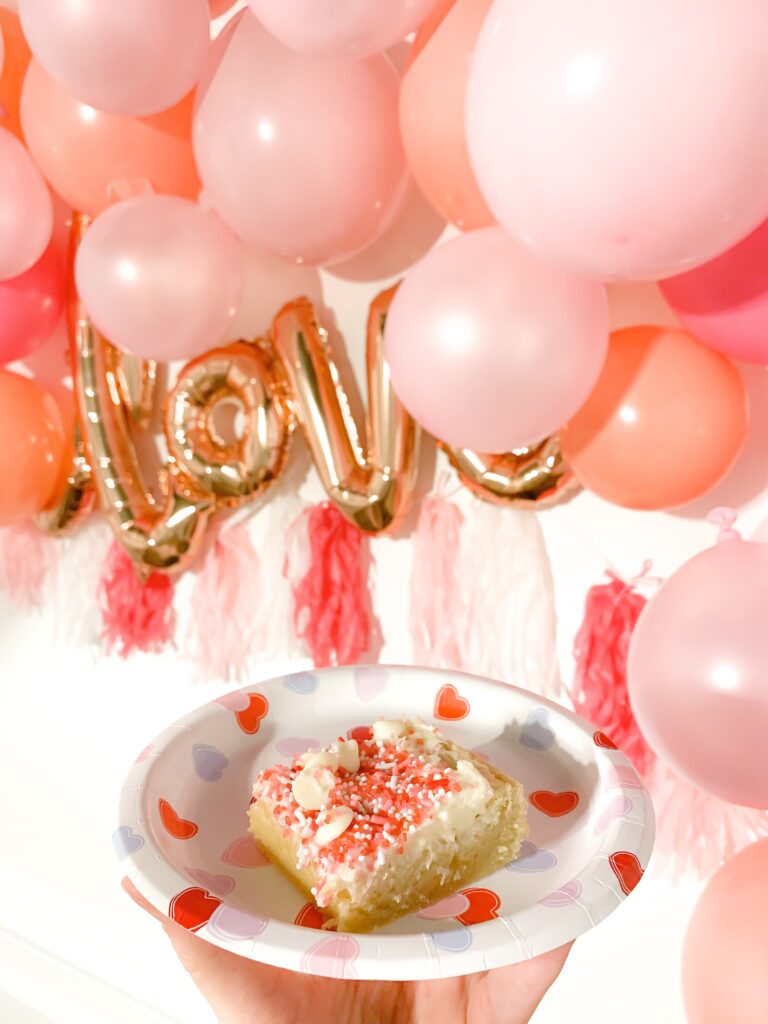 Hey Y'all! The "love day" is upon us and there's no better way that I know to celebrate than by baking up something super sweet. I went back and forth on what exactly I wanted to do and the top ideas were some sort of cake or cookies. Well, I mixed both together for a fun little treat! My all time favorite cookie recipe is my cut out sugar cookies with royal icing but I wanted something just a bit more "ooey gooey" and super sweet. So I went exploring in the pantry and called up my grandmother and I learned a thing or two about how you can turn a cookie recipe into a cake.. cream or tartar mixed with baking soda. Who would have known? These were super easy to make and took about 30 minutes from start to finish! These would be a delicious treat to make for your kids Valentine's Day party or to impress your family or coworkers! I even let my 4 year old help me from beginning to end and she had a blast, so I know y'all will to! Have fun!
Sugar Cookie Bars
Before we get started some things you'll need are a stand mixer, 9×13 baking dish and parchment paper!
Ingredients Needed;
Cookie Bars;
2 cups sugar
2 large eggs
2 stick unsalted butter
3 cups all-purpose flour
1 tsp vanilla extract
1/2 tsp cream of tartar
1/2 tsp baking soda
Frosting;
3 1/2 cups powdered sugar
2 sticks unsalted butter
1 tbsp heavy whipping cream
1 tsp vanilla extract
Directions;
Preheat over to 375
Soften butter and put it into your mixing bowl along with sugar. Beat together until creamy!
Mix in both eggs, combine until well beaten. Add in Vanilla and mix until smooth.
In a small bowl, mix your dry ingredients together (flour, cream or tartar & baking soda) and whisk together until combined. Slowly add your dry ingredients to your large bowl- At this point you'll want to switch over to your dough hook attachment to mix the dough more evenly.
Once dough is fully formed, bring it over to your parchment paper lined 9×13 pan and press dough into pan evenly covering all corners. Make sure the dough is even and flat.
Bake dough for 18-20 minutes. Once done, let cool completely before adding frosting. I always slip mine into our deep freezer to cool quicker.
For the Frosting;
Soften butter and toss into mixing bowl. Switch to your paddle attachment and cream butter until whipped and light in color. Scrap down your bowl to avoid missing anything.
Slowly add in 2 cups of your powdered sugar and mix on speed 1 until well combined.
Add 2 tsp of heavy whipping cream and combine on low again.
Slowly add remaining powdered sugar, whipping cream & vanilla extract and mix until frosting is light and fluffy.
Spread gently over sugar cookie bars! Top with your favorite sprinkles, M&M candies or chocolate chips!
Enjoy!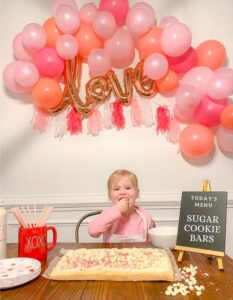 [jetpack-related-posts]