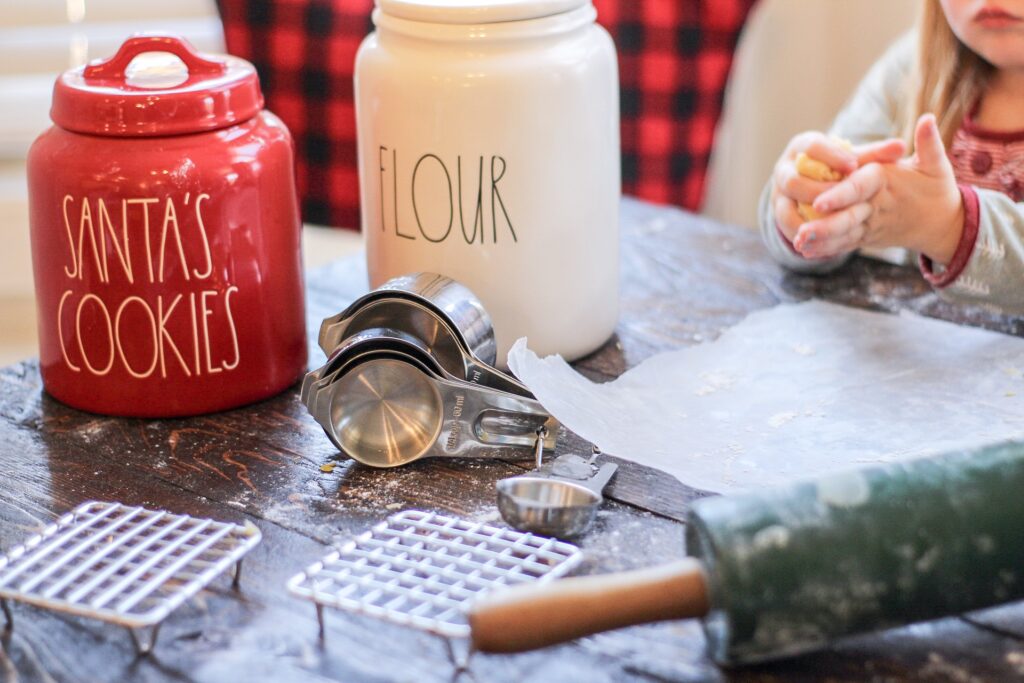 With the holidays slowly creeping up, getting those Christmas cookie recipes perfected can be pretty pressuring. I mean, doesn't everyone stress over impressing people with their baking skills? Just me?
Something i'll never claim to be is a good cook. But I can sure as heck bake. And digging around for the perfect recipes can be time consuming and stressful. After combining quite a few i've found on the internet, i've finally perfect my Christmas sugar cutout cookies with Royal icing! And don't worry, this doesn't require a pro or any overnight dough chilling. Just a quick 15 minute prep and you're on your way to awesome cookies!
Cut Out Sugar Cookies
Prep time- 15-20 Minutes
Bake time- 13 Minutes
2 1/2 sticks salted butter softened to room temp. (Can use unsalted, the salted just gives better flavor)
1 Cup plain sugar- Nothing fancy.
1 LG egg
1 LG egg yolk
1 tsp vanilla (can use imitation or extract, i've used both and both taste the same to me)
3 cups all purpose flour (NOT self rising)
1 1/2 tsp baking powder
Pinch of salt
Utensils needed- Hand Mixer or stand mixer, Measuring cups, cookie cutters (or glass cup), 2 large-ish bowls, baking sheet, wax paper and a rolling pin.
Directions
Preheat over to 325 degrees. Prepare baking sheet with wax paper. Don't use anything else, no spray or aluminum foil. ONLY the parchment/wax paper)
Take your butter and sugar and combine the ingredients into a large bowl. Using your hand mixer (or stand mixer which is what I prefer) Mix ingredients slowly and throughly until combined.
Add in the one egg, one egg yolk with the vanilla and mix again on medium until fluffy.
In a separate bowl, combine the flour, salt and baking powder and whisk until fully mixed.
Add half the flour mixture into the other ingredients and gently mix ingredients together, scraping bottle of the bowl to get everything. Continue adding until your dough is combined. DO NOT over mix, it makes the dough tough

If you are using a stand mixer, use the dough hook on the 2nd speed and mix for about 3-5 minutes and nothing more.

If you have time to spare, you can let your dough chill for about 30 minutes or so, but it's not necessary.
Gently kneed dough out onto parchment paper (use flour to prevent sticking) and roll out into about 1/2-1/4 inch thick sheets.
Use cookie cutters or the top of a glass cup to cut shapes out. Add to parchment paper to go into over. Feel free to sprinkle a small amount of sugar on top for extra taste!
Bake each batch for about 10-13 minutes. Check on your cookies at 10 minutes. If the edges are golden brown, remove from over and leave them on the baking sheet for about 5 minutes more before transferring to cooling racks. If the cookies are not done, let them bake 1 minute and check again. Continue this until done. DO NOT over bake, they will be crunchy.. YUCK!
Now is the fun part, decorate!
Royal Icing Recipe
Prep time- 5 minutes
4 TBSP warm water
2 TBSP meringue powder (this can be found at kroger or publix)
2-2 1/2 cups powdered sugar
1 TBSP light corn syrup
2 tsp lemon extract or powder
Food coloring as needed
Directions
Combine Meringue powder and warm water into a large bowl. Using hand mixer or whisk, combine until very frothy and bubbly. I prefer a whisk because I can control more of the ingredients that way.
slowly combine powdered sugar until blended smoothly while also adding in the corn syrup and lemon extract. Combine all slowly.
Take hand mixer and beat the icing for about 2-3 minutes on high. The icing should be able to spike and stand up slightly.
If the icing is too thick, add in 1/4 tsp of warm water to thin it out. Add in desired food coloring and combine until wanted color is achieved.
I decorate with this icing using sandwich baggies and cutting VERY small corner of the bags. I am not doing anything professional, just some lines and squiggles. If you want a more polished look, feel free to order a piping kit (can be found at walmart as well) from amazon!

I hope you guys all enjoy your cookies! If you do use my recipe, be sure to tag me on facebook, instagram or send me an email letting me know how it worked out for you and your family!

Happy Holiday! XO-Jordan Lee

[jetpack-related-posts]