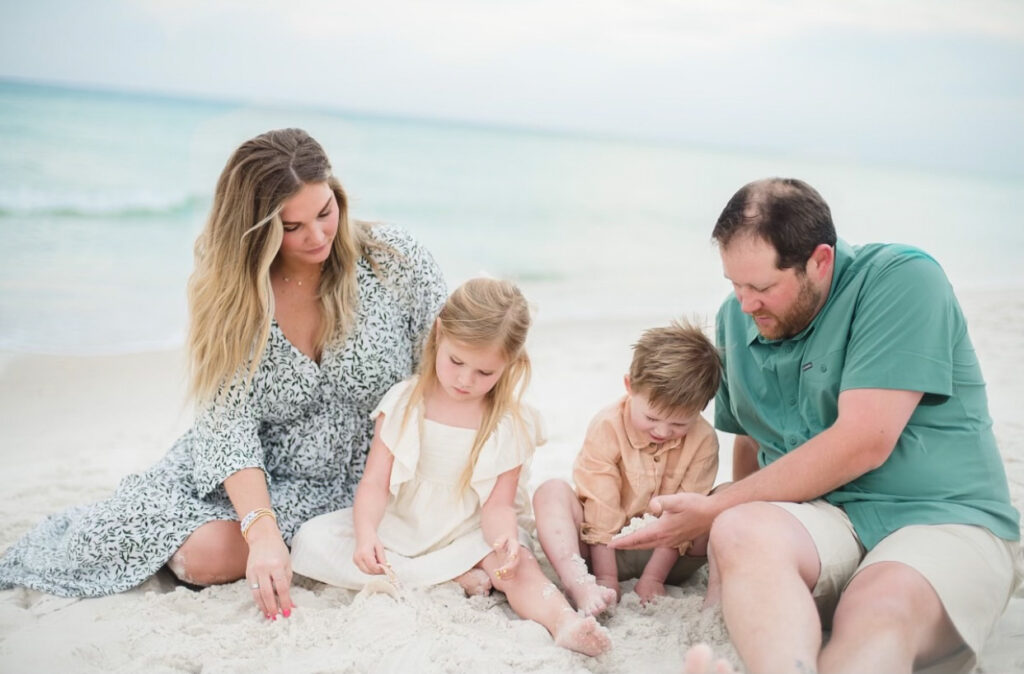 As a mother, packing for a beach trip can sometimes be overwhelming and stressful. Did I pack enough swimsuits? Did I bring enough sunscreen? Just all the things add up and by the time you're done it looks like you're moving to the beach permanently. That used to be me until I finally nailed down exactly what you really need for a beach trip with kids! We take a few beach trips every summer that are between 4-7 days and with all those trips and 2 very needy children, I feel confident in saying these things are truly the only things you'll need for a beach trip!
1- Quick Dry Towels– Packing bulky/heavy towels takes up so much room in both your suitcase and your beach bag! Add water to those towels from drying off and it's just a nightmare. I found Dock N Bay towels to be the easiest to transport and quickest drying towels out there. Similar to giant "Sham-Wow", these bad boys will dry off more than one soaking wet kiddo at a time and still dry in less than 10 minutes in the sun. They range in prices depending on the size, but i'm here to tell you I will not buy another type of towel EVER. The XL are what we buy for ourselves and the L are the perfect size for kiddos!
2- Wide Wheel Beach Wagon- If you aren't carrying small toddlers or heavy coolers you could totally omit this one, but if you are then keep on reading. We have gone through 3 beach wagons to find the perfect one and it's been such a huge help on our trips! This one specifically has the wide wheels that maneuver easily through sand and gravel! We can load this one down with heavy coolers, beach chairs, toddlers and more and it still glides through the sand with ease. Can also double as a solid napping station for tiny toddlers/babies! It's also helpful loading and unloading the car too and from the beach! Folds down pretty flat to travel with and can also double as your stroller! I won't go to the beach without ours anymore!
3- Mesh Toy Bag– These are a life savor for carrying sand toys too and from. Many times I have brought home WAY more sand than I ever thought possible thanks to beach bags that hold sand, but these allow the sand to dry and just fall through! Large enough to fit quite a bit of toys or just small enough for your toddler to toss in a few, doesn't matter! These are the only bags we will take too and from the beach with us!
4- CoolCobana Tent– When I tell you this thing is the EASIEST tent to pop up at the beach, I mean it. You literally pop it out, spread out the different "wings", stand it up and fill the bags with sand and you're done! Lots of shade, easy to assemble and break down and truly the best beach tent!
5- Hats for the fam- Sun doesn't just stop on the body, it hits the face and scalp hard! I can't tell you how many times my scalp has been so baldy burned due to lack of sunscreen and hat wearing, but I have learned the hard way. My kids both have VERY light hair and we always keep ball caps or sun hats on them! Some of my favorites will be linked, but just about any straw hat or wide brim hat that will cover face, neck and ears will suffice! An Orijinal Look / HemLock Hats
6- Sunscreen- DUH. this one goes without even saying it but i'm saying it anyways. I'm also such sunscreen snob and our family only uses mineral based sunscreens that are Reef Safe. My choice for our Kiddos is the Banana Boat Mineral Baby SPF 50. We LOVE this sunscreen so much and it's rated a 4 on Think Dirty. Myself and my husband use the Coola line. Just about anything from them is fabulous and you can't go wrong. Another fav is Supergoop Play! I also love the supergoop SPF mineral powder on my face! I don't wear a lot of makeup at the beach, so that one is my go to!
7- Small Pool- If you have kids that love the ocean and are older, omit this one. But if you have tiny toddlers or kids that aren't such big fans of the ocean, this is CLUTCH. Just get a cheap blow up pool from the dollar store and a pump and take this down to the beach with you. Use buckets to throw some water in there and instantly you have a kiddie pool that keeps your not so ocean loving kiddos happy all day. Not only is this good for kids, but the adults use this to get sand off our hands before reapplying sunscreen, eating, and just all the things. All around, such a clutch way to keep your kids entertained for very cheap!
8- A few beach toys- Kids truly don't need a lot on the beach. Get them a bucket, shovel and some things to build sand castles with and you're fine! Some people go all out, but we will our mesh bag up with toys and what they can carry is what they can have! Mama ain't carrying multiple bags of toys, no ma'am!
9- Beach Chairs- Whatever chairs you like, we just like to have one for each of us that sits low to the ground! Our kids will sit in ours occasionally, but they usually are too busy playing to ever take a seat. If they get tired we throw a towel down under the tent! Heads up, if you have a Sams Club near you, their beach chairs are FABULOUS and so dang cheap! The Nautica ones! They have backpack straps to make carrying super easy and are really comfortable!
10- Cooler with snacks, drinks, etc- This is self explanatory, alcohol DUH! But even if you aren't drinking, having a cooler with fresh fruit and cold waters is clutch. We are buying the new Backpack Yeti cooler for sean for Fathers day because we have seen how helpful and easy it is to take down to the beach, but it also holds a ton! Things to throw in here- Brumate Koozies, Yeti Rambler cups for the kids, Liquid IV Packs to stay hydrated, packs of dried fruit/Beef jerkey for quick & healthy snacks!
11-Life Jackets– These are our FAV life jackets for the past 2 years! Addi is 5 and about 45 pounds and wears the 2-4, Carter is 3 and wears the size 1-2. These keep our kiddos up out of the water but are comfortable enough that they can run around and play in them!
[jetpack-related-posts]