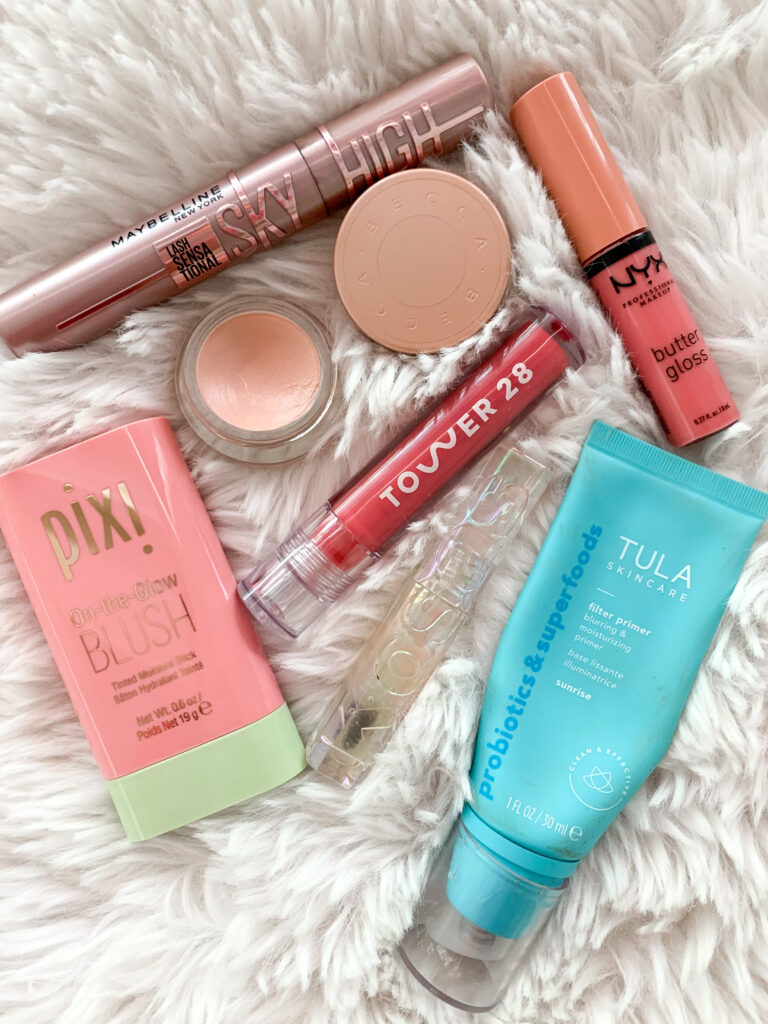 The Summer heat is upon up and that means we either invest in some SERIOUSLY waterproof makeup, or we embrace a no makeup look. Or you find really great products that are perfect for summer, DUH! So i'm here to share some of my (current) favorite products to get that fresh face even in the middle of the summer heat without putting too much on or going too bare!
Complexion- The TULA Blurring face primer in the new shades is a perfect no makeup makeup product for so many reasons. The first is obviously the blurring effect. I mean who doesn't want a blurred/pore less complexion? The second is the shade range. TULA improved the all popular Face Filter primer by including 5 new shades to cover a wide variety of skin tones from the lightest to the deepest. The shade Sunrise is the one I prefer and this gives me a beautiful light wash of color, evens out my complexion and gives me a gorgeous (but subtle) glow. CHEFS KISS!
Becca Under Eye Brightener– When I tell you this belongs in every woman's makeup bag, I mean it. This is like the holy grail of makeup items for me and SO many makeup lovers alike. This product is a creamy lightly tinted pearlescent product that is blended into the under eye to instantly brighten and cover up any dark circles. Just go look at all the insane reviews and you'll understand why it's a must have. But be quick when you find it in stock in your shade (I use the lighter one), BECCA cosmetics is going out of business in September of 2021 and will no longer be making the product! I'm on the hunt for a dupe, but so far nothing shakes a stick at this stuff!
The PIXI Beauty "On The Glow" Blush stick- It's like a deodorant stick, but it's filled with the most beautiful, glowing shades of pinks and corals and gives you that instant youthful touch to your face. The shades are limited to 3, but they are bright, summer colors so you can't go wrong with any of them! Just glide this onto the apples of your cheeks, blend it in using your fingers and you're good to go! The color last all day and truly gives you that "pinched cheek" blush!
Lip Glosses- Tower 28 Lip Jelly & NYX Butter Gloss– It's hard to say which of these I love more, but I refuse to choose. The NYX one is definitely more budget friendly coming in at just under $5 at most retailers and comes in a ton of beautiful nudes and pinks! I am partial to shades Madeline and Creme Brule personally, but almost any would be stunning. Think of a creamy lip gloss meets lipstick that also hydrates your lips. That's what this is and it's one of my TOP favorites of all time lip colors!  The Tower 28 Lip Jelly is like that perfectly juicy lip color you're always looking for but can't quite find. It's not sticky, not fragranced or flavored & truly gives the most beautiful shine to the lips without being overpowering. I prefer the shades cashew and coconut!
Maybelline Sky High Mascara– The ULTIMATE drugstore mascara for summer! This one isn't waterproof, but it does not budge! Lifts the lashes, separates them and coats them beautifully in only one single coat. Since switching to this one, I cannot use anything else. It's quickly replaced all of my much more expensive mascaras and it's like 1/3rd of the price at only around $8! This one is a must have!
Kosas Air Brow Gel- A clear brow gel that does it all. Fans your brow hairs out to give you that beautiful fluffy natural brow & holds them in place all day long! This one is also a "clean beauty brand" which is why they take the spot of my previous all time favorite brow gel that was not! Pricer, but it last a long time and is super tiny and compact to be able to travel with easily!

[jetpack-related-posts]