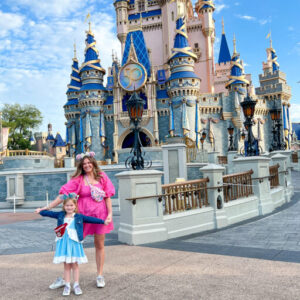 If you have come to this page looking for all the Disney tips, then you've made the right choice! While my adventures to the Disney parks began not even a year ago (literally, August 5th 2021 was my very first visit to Disneyland), Disney has always been a big part of my life. I like to tell my husband I'm making up for lost time with all our frequent visits to the parks!
I began my career booking Disney Vacations in March of 2022! Things kicked off quick thanks to social media and all my connections with that! I was able to immediately quit my job and focus on this full time, crazy right? It's literally a dream.  I love nothing more than to help people plan the perfect Disney vacation and that's my goal with each family I take on! I might not have been visiting Disney my entire life, but i've been 10+ times in less than a year and believe me when I say I know a thing or two that can definitely make a difference!
Now that you know a little about me, here's what you can expect to find here on this page! Disney outfit ideas for everyone in the family, tips on ways to navigate the parks during peek season, the best (and the worst) foods throughout both Disney parks in the US and so much more! Think of this page as your person VIP tour guide without spending $500+ an hour!
I hope you find all you have come here for and more!
To Book a Disney Trip with me- Fill out this form and I will reach out to you via email!
To view Disney World Parks, Hotels & Information- Click here. 

To view Disneyland Parks, Hotels & Information- Click here. 

To view Disney Cruise Line information, click here 

To View Disney's Aulani Information, Click here 

[jetpack-related-posts]